On Saturday, Abi and I flew out to Utah to visit family for the next few weeks (Yay!).  My dad and step-mom picked us up form the airport and drove us straight to a quilt show being held at a cousins house.  It was super cool and featured on the news, but I can't find the clip. I took a ton of pictures on my "real" camera, but I left that at my dads house so I don't have it with me here at my in-laws.  I did get one picture on my phone that I instagramed out, so you can see at least one of the awesome quilts.
I'll be posting a write up about the show on The House That Pinterest when I get my camera back.  I'll let you know when it's up so all you quilters can hop on over and see how awesome the quilts and the venue were.
But anyway, this week's theme is a new one suggested by a reader and it looks very promising 🙂  Sentimental projects are what they crafters had to come up with.
The poll, like always, will be open in the sidebar until Thursday night so vote early!
Craft #1 – Race Display – Hannah @ Young & Crafty
This is one of those projects where I killed two birds with one stone. I needed a sentimental post and my friend wanted me to make him something where he could display his medals and his bibs from his marathon, triathlon and 5Ks.
I wanted it to be manly and nothing says manly to me then a stained piece of wood with black accents. The door knob came from Hobby Lobby and I think it adds such a unique touch. I also velcroed the picture frame up so that he could change out the quote or put a picture in if he wanted. I also love the fact that the bibs are hung by screws.
The best part is that he loved it! I think it will hang in his office at work for all to see 🙂
Craft #2 – Family Photo Bulletin Board – Autumn @ It's Always Autumn
Years ago (when digital cameras weren't the norm and we actually printed out all our photos) my husband bought a bulletin board and covered it with photos of the the two of us and our son as a birthday gift for me. He made a collage with the photos, covering every inch of the 2×3 ft board. We hung it up in our apartment and I loved looking at it. Ten years and four moves later and I have no idea where that bulletin board has gotten to. For this week's sentimental challenge, I decided to recreate it, but on a huge scale.
My bulletin board is three feet high and seven feet across, and fills up most of the wall behind our kitchen table. It's huge, but the board itself is made from a lightweight building supply you can find at any hardware store and it only cost $11.
I covered the board with a sheet that I dip-dyed for a dramatic, punchy effect. The board is screwed right into studs in the wall, so it's completely secure, but if I ever want to remove it I'll only have to patch four smallish holes. But it's not going anywhere anytime soon.
I covered the board with about 100 of my favorite photos from the past ten years. Most are printed in black and white for a streamlined look, but I printed a few favorites out in color to keep things interesting. I chose candid photos that might not be considered "wall-worthy", but each one has a story and memory attached, so we've already sat together as a family talking about them. I'm really happy to have these pictures printed out and displayed instead of sitting on my hard drive – and since they're just pinned on I can swap out pictures or rearrange them at any time.
Sometimes you end up with family "heirlooms" that you're not quite sure what to do with.  I had this old quilt that was stained, tattered, filled with holes, and quite literally falling apart.  I don't like it when things just get stored away and never seen, so I knew I needed to come up with a way that we could enjoy this piece of the past.
Normally, I wouldn't dream of cutting up an antique like this, but it was really no good to anyone otherwise.  So, I cut out a rectangle of the quilt, paired it with an open back frame and some glass, and used my embroidery skills to make a wall calendar.
The grid pattern of the quilt makes up the calendar blocks for each day of the month.  I embroidered each day of the week on some muslin and sandwiched those, along with a larger blank muslin rectangle, between the quilt and glass.
A dry erase marker makes it easy to change the month and dates.  This tired old quilt has found a new life in our mudroom, where it gives my family a quick glance at our month.  Even though it was cut, the quilt is sure to be appreciated more now that it's a part of our daily routine instead of folded away in a box.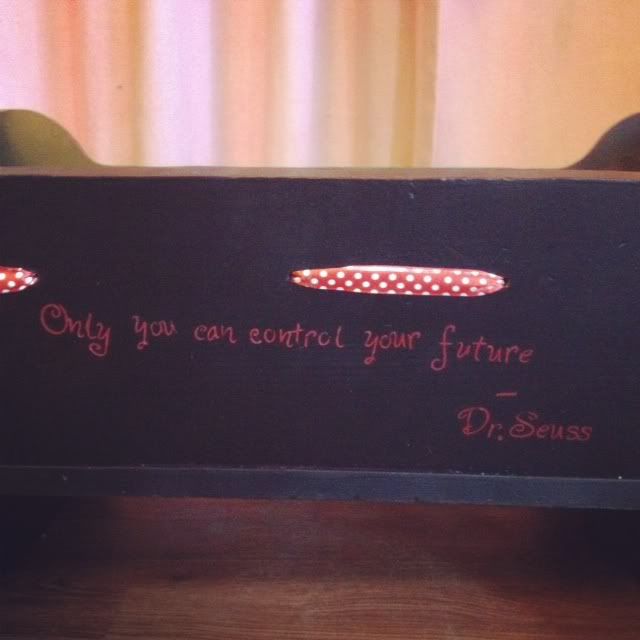 Childhood Cradle, Reimagined
When I was a girl I had this beautiful cradle that I kept my stuffed animals in. I loved it. When I grew up my mother gave it to me and it traveled as I traveled. When my daughter was born I got the cradle back out to use in her room. Now that she is older and her room has changed it is time for the beautiful cradle to change as well. I spent this week updating the cradle to match her room and continue to live with us.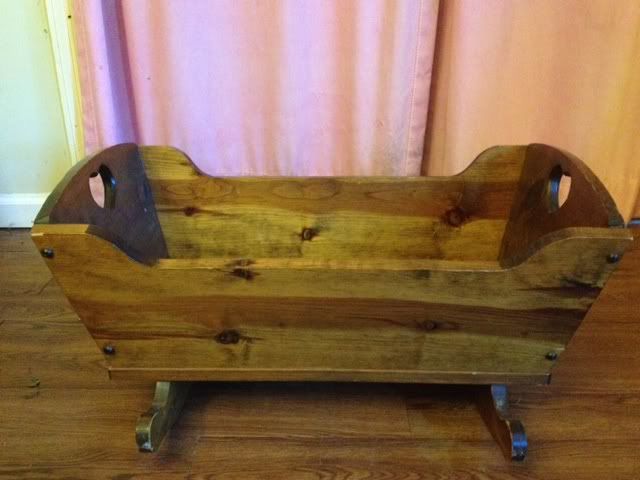 First I painted the front of the cradle red, I then drilled holes into the cradle along the middle of it. I added some stickers that formed this quote " Only you can control your future"- Dr. Seuss. I then painted the entire cradle black and waited for it to dry. I added a red and white polka dot ribbon to the holes, weaving it through them. The only thing left to do was place some stuffed animals into it and sit back remembering when I was a child and I had stuffed friends that I played with for hours at a time.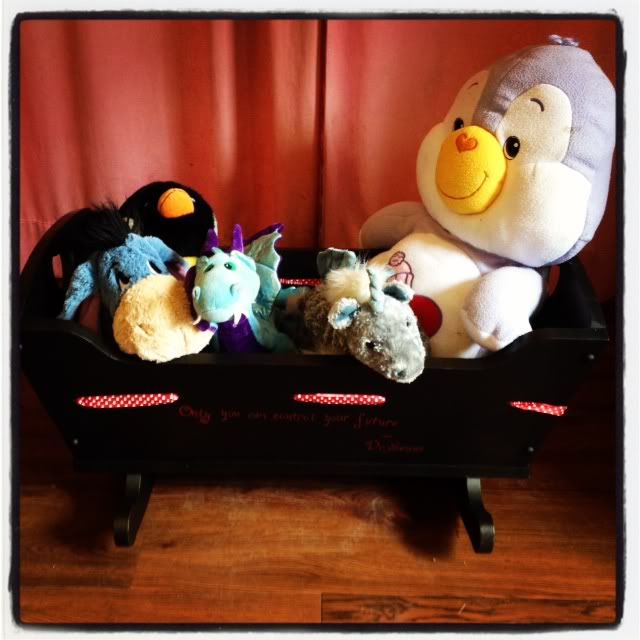 When my husband and I were dating we made a list of things we wanted to do, places we wanted to go. Some are silly like "make cookie dough" or "go to a casino (maybe)" while others were bigger goals, like "go somewhere tropical" (our honeymoon to Jamaica).
I love bits of meaningful decor, and wanted to do something fun with The list.This old board turned wall art keeps the list handy so we can start tackling it again. It's a good reminder that life is too short to spend it watching Netflix, go have some fun!  😉