27 Jul
Craft #1 – Oversized Veggie Plushes – Vanessa
As a baby, my son absolutely hated tummy time from day one. As rational
adults, you understand how important their floor time is but as an
emotional mother, it's torture to hear your poor little one crying their
eyes out. Eventually, as my son got older, tummy time became a little
easier with the help of a few props (water mat, Boppy, etc). I designed
these Oversized Veggie Plushes to help others with the always important
(and sometimes dreaded) tummy time!
The Peapod Plush is perfect for babies that aren't yet mobile but are
beginning to push up on their arms. It's softer and much cuter than your
average Boppy! As the baby gets older, he or she can use it as a body
pillow, back rest and of course, as a soft but efficient weapon to whack
their little sister.
The Carrot Plush not only looks great on a couch but can be a useful tool
when playing on the floor. Big enough for a parent to rest their exhausted
head on and yet, small enough for babies to lean against and upon. Older
babies will love crawling all over the Carrot, snuggling with it while
being read to and of course, using it to deflect the blows from their big
brother's Peapod Plush!
Craft #2 – Welcome to Scranton – Emilie
My good friend is a lover of The Office and all things Scranton (like myself), so when she recently had a baby girl, I knew just what to make her.
This gift basket includes six Office themed onesies, a rattling Dwight Schrute doll and the first and second seasons of The Office on DVD to save the sanity of a Mom and Dad with a new baby.
Here's a close-up of the Dwight Doll. It has no parts which can be taken off and swallowed by little mouths and has a rattle to soothe and entertain baby. Because what's more entertaining than Dwight Schrute?
And here are the onesies. My friend's baby is a girl, so I personalized the Dunder Mifflin Logo onesie by making it purple instead of blue. All of the images were designed by me except the Dunder Mifflin logo and the Schrute Farms logo (which was found for free on the Internet).
Vote for this Baby Gift Set and you'll win 10,000 Schrute bucks and drinks with Meredith at Poor Richard's Pub in Scranton!
Craft #3 – Union Suit – Kristin
I have always been in love with those cheesy red union suits……you know the kind cartoon characters are always wearing under their clothes?! I've had one on my to-do list for a long time. And babies need clothes, right…a lot of clothes! So they might as well be cute. Not to put pattern companies down, but I've never had the best luck with their sizing. But it is surprisingly easy to draft a sleeper like this with the help of a ready-to-wear garment. And snaps not only make it easy for changes, but you can avoid the dreaded zipper (in case you're scared of those!). I used a black and white stripe knit that I had leftover from another project. It gives it a nice baby-convict vibe.
Or maybe Ralph Lauren, depending on how you look at it.
Craft #4 – Baby Bibs – Kim
But not your average baby bibs.
These baby bibs are interchangeable. They come with a strap ending
with some suspender clips. You just clip on whatever bib you want
and chow down!
The bibs are also reversible and 100% washable (that would just
be pure ridiculous  if they weren't!).
And for those really messy foods (can we say spaghetti) you can just
use the strap to hang a paper towel
Then just throw away the paper towel! (hopefully that will be the only
mess you  have to clean up….but we all know that's not true!)
Perfect for restaurants! Just keep a strap in your diaper bag!
Craft #5 – A Year in a Box – Heidi
I go to a lot of baby showers and welp…
I thought this would be a great gift.
I bought a wooden box from my local craft store and painted it white.
I then customised the design of this oval, butterfly and circle (on the top of the box).
I used the name Joy for my friends baby to come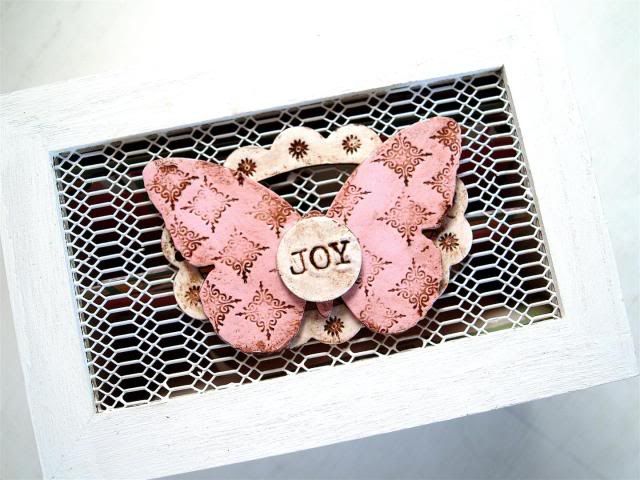 Inside this box you'll find 13 cards that have pockets and flaps (a lot of fun little surprises)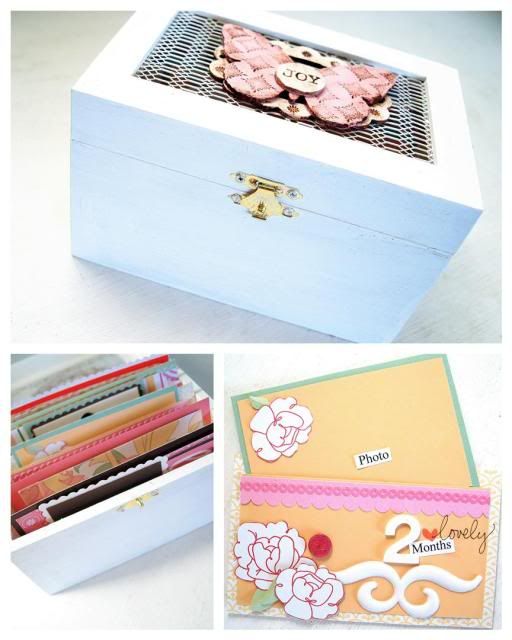 Each card represents a month (0-12 months).
Each card asks a special question, the weight, length, for a photo and what the baby "likes" and "doesn't like" for that month.


Thanks and I hope you like it.
Craft #6 – Inspirational Mobile – Mary Beth
This mobile is meant to provide visual stimulation as well as words of wisdom.  It moves gently with circulating air and is best hung from the ceiling or a light fixture.  The colors are a mix of calming blues and browns and can act as a simple reminder to catch our breath and just live in the moment.
Craft #7 – Tummy Time Mat – Cheri
When I started brainstorming about baby gifts I wanted to think of something I would truly want to receive for a baby.  My babies have always hated tummy time and we have lots of hardwood flooring in our home.  So?  I made a giant baby play mat.  (Nevermind that it's in the grass, it's meant for inside play.  I just needed a bright place to photograph it.)
This mat is guranteed to keep a baby happy and entertained.  It's loaded with not only color, but lots of texture……fringe, satin edging, tangible animals secured by ribbon, textured stitching, beads protected from reach under clear vinyl.  It's also super comfortable, with a couple layers of batting and thick fleece on top and bottom.  What?  You're afraid it will slip around?  I sewed grippers on to the bottom so the mat will remain in place at all times.
Want to add your own toys?  Just link them into the grass loops by the rocks.  This way you can interchange some of the toys to keep your baby interested.
But, the best part is….it's machine washable.  (Hang to dry.)  Let's face it.  Babies are cute, but oh so messy.
Craft #8 – Modern Baby Booties – Carrie
One of my favorite baby gifts to give a new mom is a pair of Modern Baby Booties!
New moms often receive outfits as gifts for their babies and nothing completes an outfit like a cute pair of shoes! These booties are lined and have a faux suede sole. They are super soft and comfortable for babies feet!
This darling baby quilt is made from a Spirit Charm Pack. The combination of the applique and the simple piecing makes for a great unique baby gift.